Welcome to Faculty of Business
Welcome to Faculty of Business International Students and Scholars Office…
Dokuz Eylul University Faculty of Business International Student and Scholar Office (ISSO) provides orientation, guidance and  information to incoming and outgoing exchange students & staff  regarding financial, procedural, cultural, and academic concerns in the scheme of Erasmus+, Mevlana and other exchange programs.   Office  organize International Week  every May as an IaH activity since  2007. Businet and Nice Network memberships and related activites  are run by ISSO which makes contribuation to internalization process of the Faculty.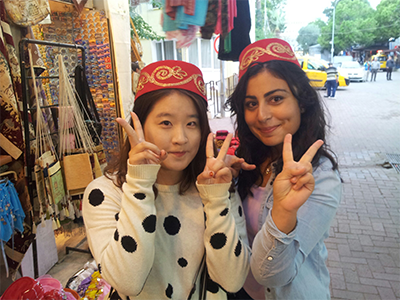 Testimonial of Nayun Gwak —- Hanyang University, South Korea
I love izmir, a city which has many faces. izmir is a city vibrant with life and energy. But has so peaceful and beautiful view too. I feel so relax when I am walking through the seaside with cekirdek.
I love izmirians, they are so kind and open-minded! Not just for foreigners, they always help each other with smile faces. They have happy-virus! Also izmir people are so friendly. They love to do something together and have fun together.
I love Turkey, every places in Turkey has different attractions. I could feel the difference mood even in the city just 1 hour far from izmir. The more I travel Turkey, the more I do want to know about Turkey.
I love Dokuz Eylul University, Faculty of Business, students are passionate. I could see they are enjoying the class.
I am a lucky girl to be here!
İzmir Blog of Jakub Iwanowicz University of Gdansk
It was the most beautiful period of time in my life. I met many crazy and amazing people, I enjoyed on many exciting parties, I traveled and visited many fantastic places with incredible views …. http://erasmus-izmir.blogspot.com.tr/